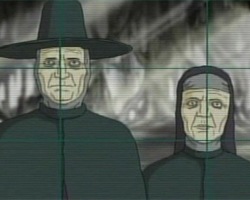 Anja Wartooth is the mother of Dethklok guitarist Toki Wartooth, and the wife of Reverend Aslaug Wartooth. She appears in the episodes "Dethfam" and "Dethdad" along with Toki's father. Like Aslaug, Anja is silent.
She is not shown to speak and appears to have taken a vow of silence along with her husband. Her husband later dies in the episode "
Dethdad
", making her Toki's only surviving parental figure. She appeared in the Christmas episode, "
Dethmas
", along with the other mothers. While on a trip to the mall the other mothers try to buy Anja some new "sexier" clothes due to the fact she is currently single.