The Russian animation studio Red MEDUSA's YouTube channel ArhyBES made a short humorous animated series titled "Batmetal" featuring their own animation with Dethklok music.
The first video features the song Face Fisted. It is sung by Batman with Robin, Nightwing, and Red Hood as instrumental accompaniment. It was uploaded on Jul 1, 2014.
BATMETAL RETURNS
Edit
The second video features the song Murmaider. This video has a certain "plot" in which Batman & co. rescue Aquaman from Spongebob, Squidward, Plankton, Patrick, Mr. Krabs, Ariel, and Flounder by gruesomely killing them. It was uploaded on Sep 1, 2015.
BATMETAL FOREVER
Edit
The third video features the song Awaken. The intro to this video was arranged by Brendon Small himself and has a cameo from Dethklok looking condescendingly on as Batman sings in his car. In the video, Batman is trying to awaken his longtime rival Joker instead of Mustakrakish. It was uploaded on Mar 31, 2018.
Nathan Explosion made a quick cameo appearance in the BATUPDATE video "WHERE IS BATMETAL?!".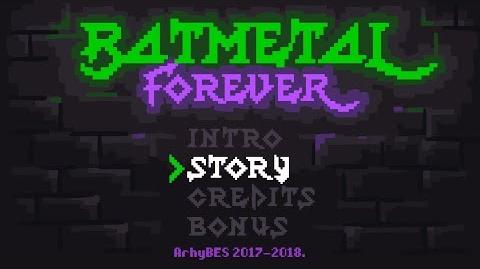 Community content is available under
CC-BY-SA
unless otherwise noted.