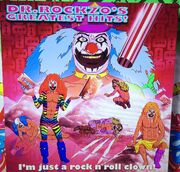 Dr. Rockzo's Greatest Hits
is a virtual album by
Dr. Rockzo
comprising of his apparent "greatest hits". The album and tracklisting was only mentioned in a special feature video included in the Metalocalypse Season 4 DVD/Blu-ray.
Track listing
Edit
The writing credits are a mixture between Dr. Rockzo and Zazz Blammymatazz
I'm just a Rock n' Roll Clown
kakaka Kick It!
I'm a mamama magnet
Hot for Tacos
Love is a Steel Dildo
1981
Strip It Down
Five Worlds Aren't Enuf!
Triple Baggin It
Dirty Mirror
Goodbye, Snowy Road
Outside
Sex Night
4544
Nightmares
Kakakaka Korea
Devil Man
Blow Back
Mexican Mamama Mamaka
Atomic Clown
16 Again
Banana Man
Nuclear Party
Suck It and See
Giant Balls of Love
First In Line
Girl Sandwich
Moon Extruder
Dory Mclean
Guitar Dogs
The Last Clown
Kakakaka Cocaine
Tramp Stamp Blues
Full Sausage
The mentioned formats are in CD and vinyl, with what appears to be bonus vinyls of "Atomic Clown" and "Kakakaka Korea".