Judge Alfonzo
is a civil court Judge ruling over the
Dethwater lawsuit
in the episode "
Dethkomedy
". He rules in favor of Dethklok after
Charles Foster Ofdensen
reveals the albums warning "
Intended For Fish Only
". He is later seen playing golf with
Dethklok
. After
William Murderface
's turn is up, Murderface turns to the judge and says "
You're up, Judge Alfonzo.
", as judge picks up his club, he politely thanks Murderface saying "
Thank You, William.
" Earlier in Season 1 in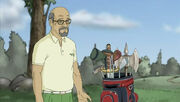 the third episode "
Birthdayface
", the paper reporting Murderface injuring the Danish prince also has an article speculating that the Judge and Murderface are "close and personal" friends and this relationship is a source of controversy regarding Judge Alfonzo.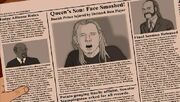 The article also questions the source of Alfonzo's "limitless funding", raising the possibility he is corrupt, and is in Dethklok's/Ofdensen's pocket.
In finding the band not guilty in the Dethwater lawsuit, it is also possible he just believes Dethklok wasn't legally responsible for Dethklok fans stupidly hurting/killing themselves after listening to an album intended for fish.
He is one of a few number of characters not to be maimed or killed while around Dethklok (likely due to the fact he ruled in their favor, as people who help/aid Dethklok are somewhat less susceptible to the Curse of Dethklok).
He is on a first name basis with Murderface.
His voice is similar to that Mashed Potato Johnson (they are voiced by the same person).