Magnus and the Assassin is a song from Metalocalypse: The Doomstar Requiem and its soundtrack, featuring the voices of Brendon Small, George Fisher, and Mike Keneally.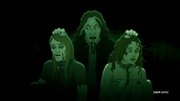 The scene reveals the grave situation Toki and Abigail have endured since being kidnapped by
Magnus
and
The Man With the Silver Face
. The two prisoners face harsh treatment under their keep, especially Toki who is shown being tortured and humiliated by Magnus. Magnus explains that if/when Dethklok comes to their rescue, he and the Assassin have the same fate planned for them.
The album version of the song was trimmed slightly for the scene; Magnus sings the chorus twice on the track.
[Magnus]
Welcome to your resting place
Please enjoy your stay
I'll be your ambassador of sorrow and decay
[Assassin]
I will take them
I will break them
I will claw their flesh and forsake them
Seek revengence for my brother
I will not rest until I'm satisfied
[Magnus]
It takes patience
We are aligned
You have the strength
but the cunning is all mine
I am the brains
You are the power
The legacy of Dethklok will be devoured
I'm not a terrible person
for I'm just a man filled with pain
Cast out by the Klok to live in obscurity
I will pay them back the same way
I'm no murderer
I'm just a man
I'm the judge and jury
and your case is in my hands
You should be on my side
So should she
[Magnus and the Assassin]
When Dethklok is imprisoned
the world will thank me!
[Magnus singing the chorus]
Oh, you are my bait
They will come for you
They'll be trapped
Oh, I've been so patient
My reward is soon
Oh, my apologies
You're just like me
a victim of the band
Oh, I see it all so clearly
They will live just like me
in obscurity
[Toki singing]
Oh, you're scarings me, no!
Oh, you're scarings me!
Please don't hurt us!
We ain'ts done nothings wrongs, my friend!
Oh no, you're scarings me!
[Assassin]
We'll finish them
Community content is available under
CC-BY-SA
unless otherwise noted.